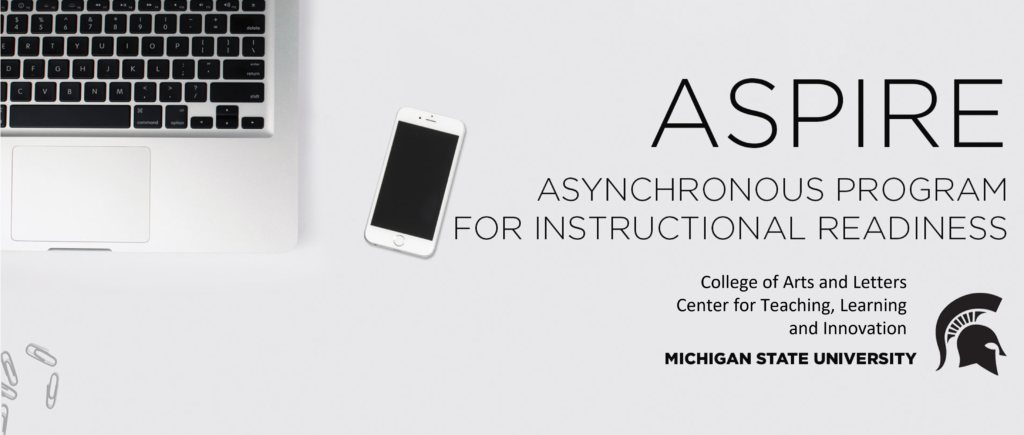 Overview:  Early in March 2020, before EDLI was formalized, a group largely populated by current EDLI members created a series of instructional guides and documents to support the Colleges of Natural Science, Arts & Letters, and Business in the rapid transition to online teaching. This work quickly scaled up, and in conjunction with other colleges and the MSU Hub, it was disseminated campus-wide as a series of week-long hybrid workshops (SOIREE) and a comprehensive asynchronous workshop (ASPIRE).
Outcomes: Overall over 2000 instructors made use of the content. While emergency remote teaching was not indicative of the quality of instruction that is possible in traditional online learning settings, these programs did normalize some core practices including:
Use of common instructional tools where possible
Alignment between activities and assessments
Policy authoring and dissemination in areas such as webcam use, test proctoring, online meeting security, and grading
Facilitation of feedback channels for students
Prior to COVID, the Colleges of Arts & Letters and Business ran a One Week One Course bootcamp, designed to coach individual faculty members through the process of converting their face-to-face course to an online one. In March of 2020, a small group of collaborators converted the One Week One Course program into an online teaching readiness program we called SOIREE: Summer Online Instructional Readiness for Educational Excellence program. We ran a pilot of that program the week of April 5, iterated based on feedback, ran a second pilot the week of April 13, and iterated again. The first formal cohort of SOIREE consisted of about 80 faculty members from around the university. It concluded April 24. There are five additional cohorts scheduled to run through June 12. In all, more than 950 faculty members from all across MSU engaged in the SOIREE program.
The SOIREE authors were: Jason Archer, Kevin Henley, David Howe, Leslie Johnson, Summer Issawi, Rashad Muhammad, Nick Noel, Candace Robertson, Scott Schopieray, Kate Sonka, Jessica Sender, Stephen Thomas, Daniel Trego, Jeremy Van Hof, Sarah Wellman, and Valeta Wensloff.
Another team, led by Scott Schopieray, Sarah Wellman, and Daniel Trego, converted SOIREE into an asynchronous offering called ASPIRE (ASynchronous Program for Instructional REadiness). This process has allowed us to broaden and deepen the instructional and pedagogical support we offer our colleges (and the university at large). Preliminary feedback from the SOIREE and ASPIRE programs was overwhelmingly positive, with many participants stating that they wished they had had similar training earlier in their careers. We intentionally structured the early remote teaching guidance and the SOIREE program to be rooted in pedagogical theory and educational best practices. We built into the program clear messages about accessibility, inclusivity, and equity, embedding the notion of a "culture of care" into the instructional practices for which we advocate.
Publications:
Comprehensive write-up in MSU Today: https://undergrad.msu.edu/news/view/id/271
Much of the content of SOIREE and ASPIRE populated the Keep Teaching website, and the EDLI core team was integral in the authorship of much of the content on that site. https://remote.msu.edu/teaching/
Author/Personnel: by Jeremy Van Hof; Sarah Wellman, Scott Schopieray, Stephen Thomas, many others